There are millions of baby related products out there, but when it comes to breastfeeding, all you really need is a good milk supply and a hungry baby.
I compiled a list of my favorite breastfeeding products because, while I could have still done it without them, they all provided me with one important thing – C O M F O R T! And being comfortable while breastfeeding is so important to developing that good milk supply.
---
I received this Jolly Jumper Boomerang Nursing Pillow as a gift at my baby shower and it has become a staple in my house. It is so much more than just a breastfeeding pillow…
During pregnancy, it was the perfect shape to both support my stomach and tuck between my legs while sleeping. The boomerang shape was also perfect to tuck behind me in bed for extra support while sitting upright.
I loved it for breastfeeding because it was so versatile. I could fold it half if I needed firm support under just one arm, or lay it across my lap.
The little fold at the end of the pillow case acted as a pocket – perfect for stashing washcloths and nursing pads (ok, let's be honest, for my cell phone).
The shape was just right for propping baby up at any age. Whether I laid baby on their back or tummy, I found that the "V" shape was better for supporting them than the "U" shaped pillows and I could easily bring the sides in for more security.
It's so soft! This may be a disadvantage to some who are looking for firmer support in a nursing pillow but I loved how flexible it was compared to other ones.
I stopped breastfeeding a long time ago, but this pillow is still my favorite one to have around the house – specifically for cuddling up on the couch or propping myself up in bed. (It's recently come in very handy during my battle with chronic pain.)
---
Like many first time moms, I didn't buy a breast pump before the baby was born because I wasn't sure if I'd even be able to breastfeed.
After my first child was born, I inherited a brand new Medela Swing breast pump from a friend. Since I had never used a breast pump before, I thought it was fantastic – but I didn't have anything to compare it to.
So when I was pregnant with my second child, I stupidly sold my Medela Swing and "upgraded" to a fancy double electric pump because I assumed that two was better than one. BIG MISTAKE! It had no where NEAR the sucking capacity of the Medela…
I went back to the basics with the third one. Since none of my kids were big fans of bottles and I wasn't going back to work – my pumping requirements were very minimal. This time I chose the Medela Harmony manual pump.
My favorite feature was the ability to stimulate the nipple with the pump to initiate a let down. This is super important when your nipples aren't as sensitive anymore (i.e. after breastfeeding three kids). I also found that I could pump more milk simply by being able to manually control the rhythm of the suction.
The Medela Harmony is a great little breast pump for days when you're away from baby or feeling extra engorged. It's perfect for traveling, easy to clean and is a no-fuss solution. The Medela Swing is a better option for more regular pumping.
---
I had an excess milk supply and an overactive let down reflex which meant that I leaked milk A LOT.
Because of that, I tried SO MANY different brands and types of nursing pads before deciding that these Lansinoh Disposable Nursing Pads were beyond compare.
They are SUPER absorbent. They resembled a full diaper when they were soaked, but they didn't leak no matter how much milk spilled into them. Like a sanitary napkin for your boobs.
They have a sticker on the back so they stay in place! So simple, but so important.
You can't see them through your bra. They're not bulky or "papery" and they don't have weird lines or patterns on them.
They are super comfortable. Even with raw, sore nipples.
They're individually wrapped. Not in pairs which is great because I often had to change just one at a time. They're also easy to throw in the diaper bag, purse, gym bag, even small enough to keep in your pocket.
They usually included a free gift (sample) in the box like breast milk collection bags, or individual packets of baby wipes.
---
I bought way too many nursing bras. I thought I was going to need them all but what I wore almost every day while I was breastfeeding is one of these tank tops with the built in shelf bras.
If you're going to buy them, buy them in bulk because you're going to get milk and baby spit up on them, and you're eventually going to have to do laundry, but you're going to want to put another one on right away.
The built in shelf bra is important because you need the support and also something to hold your nursing pads in place (those stickers can't do it all).
They're comfortable enough to sleep in. In fact, I think there was barely a moment when I wasn't wearing one of these tank tops during my breastfeeding years.
I wore them as a base layer under all my other shirts so that when I had to nurse in public I just pulled up the top shirt, and then pulled the tank top down to expose the nipple. All that was visible between the two shirts was a small opening (covered by baby's head anyway) and I didn't have to fuss with an annoying nursing cover. Not that I cared, but most people couldn't even tell I was nursing.
---
No one even told me these existed, I found them by accident…
When I breastfed for the first time – my nipples felt like they were on fire. I expected some pain with breastfeeding, but it turned out that I had a cracked nipple and developed mastitis. My nipples hurt so badly that merely a shirt or bra touching them was enough to make me wince in pain.
So I went on the hunt for something to help. I was looking at nipple shields which I didn't buy but found these Philips AVENT Comfort Breast Shells instead and they ended up saving my nipples and ultimately, my breastfeeding relationship.
Basically they are a protective dome for your sore nipple. There is a soft silicone part that is shaped like a donut and goes against your breast. Then the hard plastic cup shields your nipple from chafing or being hit or poked by accident.
They are comfortable enough to wear to bed they are designed to collect any breastmilk that leaks out. So while you're nursing, you can wear it on the opposite breast to collect and save that precious liquid gold.
If you're extremely engorged they can be a bit painful to wear. But they will greatly help to reduce flat nipples and even release a bit of pressure from engorgement. Pop them in the fridge when you're not using them and the cooling sensation will also give you relief from engorgement!
---
For more breastfeeding help, check out Milkology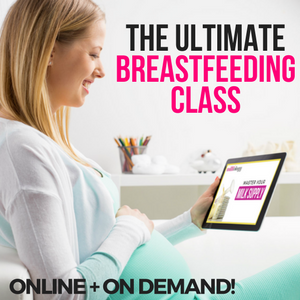 Milkology is a 90 minute online breastfeeding class run by certified lactation specialist, Stacy Stewart. For less than $20, you can get some amazing tips for breastfeeding success – with a money back guarantee!
---